Registered Name: Tualatin Acres Flying Dutchman
Tualatin Acres D. Black Pearl x Camanna TBR Red & Blue Paisano
DOB: May 25, 2010
"Dutch" is up to date on his shots, worming and hoof care. He is disbudded, and has been tattooed. He will make a great little herd sire. I am asking $150 for him. He is from Camanna lines. He is a red/white chamoisee with bright blue eyes. He is uphill and long bodied, with a very elegant head and neck and great rear legs with a wide stance. Pictures below are of Dutch, followed by photos of his dam and her udder, and photos of his full sister.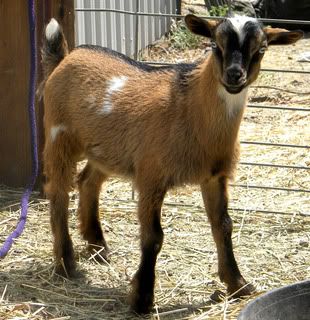 Black Pearl (Dam):
(Her udder was twice the size of these photos in full milk. This is after I had weaned both kids and let her go too long without frequent enough milking.)
Full Sister:
Email me at
firelight_27@yahoo.com
if you are interested.