Discussion Starter
·
#1
·
Ok I have two more bucks to critique, please. I have opinions of my own on both - but would like to hear yours -
First is Bart -
2 years old
Unproven (no offspring on the ground yet - but did breed this year)
Long bodied
very correct
nice coloring
Problem - he is 25 1/8 tall
S: Twin Creeks MF Prairie Hawk
D: Harmony Mtn Bouncing Bonnie
Ok now here is Texan -
4 years old
proven with kids on the ground
Nice, but not quite as correct as Bart, but still real nice
has no pictures of daughters in milk. Has seen half sister - and really nice udder
coloring is nice
down side - just a little more then I budgeted - but could swing it probobly
Sandy Hollow KD Texan
S: MCH Goodwood KW Dallas *S
SS: Gay-Mor's RA Kingwood *S
SD: MCH Goodwood Tahoka *D
D: Twin Creeks WB Frosted Maisie
DS: MCH Goodwood Weisbaden E
DD: MCH Twin Creeks BH Phantom Bride E *D
daughter as a doeling -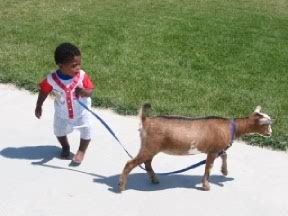 photos and information courtesy of Lauri from Sage Acres Farms. (given with permission)
So these goaties are about 9 hours each way drive from me. BUT, she can ship by air also if needed or might be able to get him to "hitch" a ride up.
Now here is the what I want to bring up also......
ALL of my sr.does range in height from 18-21 inches tall. (not sure height on the new 4 that could be coming in) My 2 jr. does (born in May 08) are 15 and 16 inches. The 15" doeling came out of a 19 inch dam.
What do you all think?