Discussion Starter
•
#1
•
Skylar is a 3 year old(March 04) unregistered pygmy wether.
He is horned but has never used his horns against humans or animals besides goats.
He is very human oriented, you'd think he was a bottle baby!
I am asking $100. However, if you purchase
my little buckling/wether
($100 as well) I will pair them for $150.
I live in Hartly, DE 19953. I am willing to drive a short distance(less than two hours) to meet you free of charge.
If you are interested or have any questions, please PM or email(
[email protected]
) for my phone number.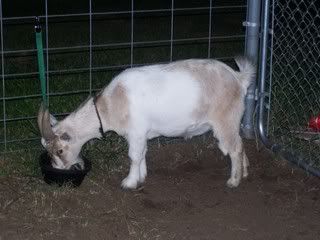 He grows a wonderful beard, capelet and pants if you don't shave him down for showing! Which, btw, he shows well.