I have banded horns before.
4 goats total.
I no longer purchase horned goats for that main reason...them getting stuck in the fence. I absolutely HATE horns. Just my personal preference.
You have to be really good at banding horns so you don't get scurs.
On 2 of the ones I banded they had scurs.
When the horns come off they bleed A LOT.
I'll post the pictures....
We used tape to keep the bands from sliding up.
Here is the horn, starting to fall off.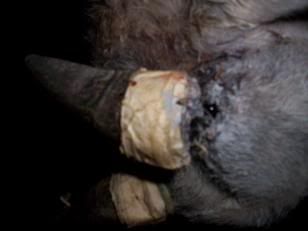 Horn part way off.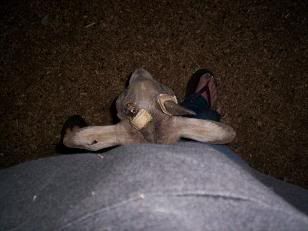 His horns got pointy so we put a lamb nipple on them and taped it really good. After the band had gone through the horn part of the way it broke with out me knowing. My mistake I should have removed the tape and nipple to see how far he had to go but I didn't, which is why his horn is grown out in these pictures. Then after a while he got rammed by one of the goats....
This is probably what you'll see with your goat if you choose to band.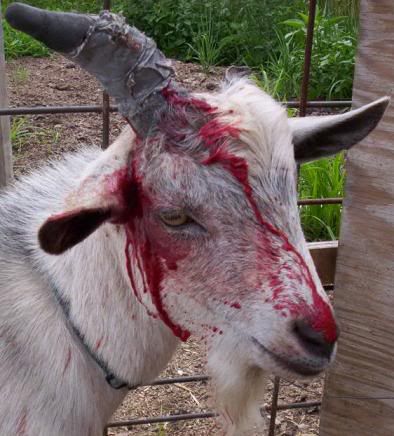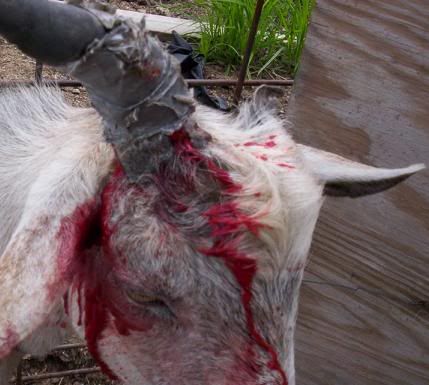 He was the last goat I banded...it just wasn't worth it. Which is why I don't buy horned goats. I dont like them and I wont be banding them.
When you band you have to make sure that the band is in the right place, and that the band doesn't slip at all during the process or break. Our's broke and that is what caused the scurs and everything.