wether:I have a show wether born end of April- beginning of may.
he was 34 lbs 2 Sundays ago.
pooping and peeing and acting fine.
he's drinking water just fine too.
he's got a slight cough and isn't eating much.
we finally got him to eat 3 cups for a few nights then it went down to 2 last night he ate 1 and to day I got him to eat 2. but my other 2 where are about a month older and are eating 4 cups.
iv never had a wether cough so I have no idea what to do and also I'm not sure why he would be going off feed?
I haven't gotten his temp or wormed him. and I have no idea what it means to look at the color if their eye lids or how to do it??
this is him.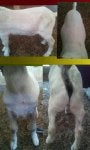 doe: my doe stormy has a cough. she has no runny nose she's eating drinking and acting just fine just like normal. except she's coughing again. she has even wormed for lung worms and regular worms. not sure on temp and again no eyelid color because I'm not sure not how to check it.
last time we used la200 it worked but its starting up again. what should we do now?
im working a double tomorrow so I can't get temps but I will Thursday if needed.
thanks for your help!!!