Discussion Starter
·
#1
·
We are finally in the works for building a new doe barn! We're planning to use a carport as the roof/base, and trying to figure everything else out from there. I'd originally wanted to order it today, but will have to wait until Monday most likely so we can figure out all the details. Hoping it will only be a 3-5 week wait for install (fingers crossed).
Do any of you have a carport shelter? Pros and cons? I've asked on a FB group and got good info, but always looking for more considerations.
Our biggest issue right now is placement. We have a small place with a creek that runs through the middle, it usually has no more than 2' of water in wet season, and seldom comes out of its banks near the current setup. We plan on installing a thick layer of gravel and some crushed type of rock (Class I sand most likely) on top.
Placement... my husband wants to have it facing east/west (our home runs long ways east/west). It would work, BUT, we wouldn't be able to see beyond it - into the doe pen, or view of the back of our place. Otherwise that option is fine.
But if we sort of put it where the old doe shelter (cattle panel shelter) is at and just move it away from the barn a bit, having it face south/north, we can have more of a view of does, creek, back of our place, but... barn, buck shelter and new carport barn would be grouped up so we'd really have to consider drainage options (we have no issues inside the cattle panel shelter as far as drainage issues go, floor is built up higher than outside).
We'd agreed on having them enclose the sides with metal and we'd enclose the ends so we can make doors, windows, etc. out of wood. But I'm wondering if it would just be better to do wood all the way around. If we do metal we'd put panels or something on the inside & outside to keep goats from touching metal.
We'll do either spray foam or wrapped foam sheets for the inside of the roof to hopefully help with condensation and weather conditions (cold in winter, HOT in summer).
We're planning on doing 20Wx32L. Front half 2-3 stalls on each side (Boer goats), middle would be creep area for babies to come out into, and back half for does to sleep/lounge. Open it all up when stalls are not being used is a possibility.
Sorry to write a book, but if this all works out I figure this might help the next person who wants to go with this idea as well
I've considered maybe we could do the sides like this:
Or sort of like this. Again not sure if we'll do sliding doors or doors that open up. I worry about goats jumping on the doors so have to have a way to keep them from destroying them lol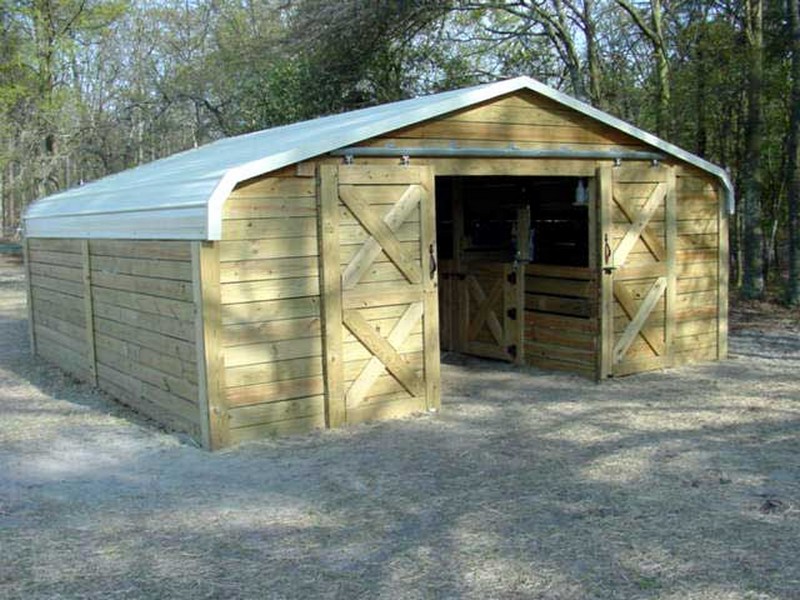 This is the same size carport we are planning to get, this one has the sides and the end gables. We've debated 1 enclosed side, and the rest wood, both sides enclosed upon installation, but have not talked to my husband about the Gables yet. We'll be installing posts inside to help with keeping it tied down and support if we ever get any snow (we have had very little the last couple of years).
Also planning to do a barn red not brown