Discussion Starter
·
#1
·
Yes, this is a pitiful plea for those that would understand to feel sorry for me ... with me.
I've waited for several years to get goats. My hubby said this spring that I could go ahead and get two. I've been so excited... I've been learning all I can and getting their enclosures ready, etc.
A couple weeks ago I found a perfect 6x8 shed on Craigslist for $200. It was already on a trailer and they would bring it to us for a small gas fee. We went to see it (an hour drive), got there and it wasn't there. I called the lady and she said that it should be in the backyard of the house (which is empty and being renovated so nobody lives there). It wasn't there. She believes it was stolen! Never heard back from her ... hope she got her trailer and shed back.
Ahh - I'm trying to feel bad for myself here and my new kitten (we literally saved from being put to sleep at the vets office two weeks ago) is climbing on the computer and pressing the keys ... so if things are spelled funny ... it's not my fault. And, now I'm smiling... drats!!
Anyway, back to the sob story...
I found another shed on Craigslist for FREE!! We went to see it - the lady told me it was about 10x12 - perfect again. It was 14x23... we have no way to move it. But, while there I saw she had several old tires and some wooden spools. I asked her about them and she said I could have all of them for FREE!!! Perfect goat toys. I was ecstatic, we went back home and I got in our pickup to go get them. It wouldn't run! I called her and she said that her landlords said she had to have those things gone by the next day (last Saturday) so I called around to the couple of people that I know that have pickups to borrow. None were available. Saturday the lady told me that I could wait until today to come get them. Hurray again! I could borrow a pickup today. She e-mailed me yesterday morning and said that the landlords threw everything away on Sunday - they changed their minds about letting me come today.
I've been looking for old tires and spools for almost a year and have only found three little tires - these were larger tires. I'm so disappointed.
Maybe I'm not supposed to get goats. :shrug:
Now, she's playing on my feet.... it's hard to have a pity party when such an adorable little kitten thinks you're the best thing in the world. I'm going to try to post pictures of her if I can get this to work.
This is her sleeping in her favorite spot .. on anyone's shoulder... this is my hubby.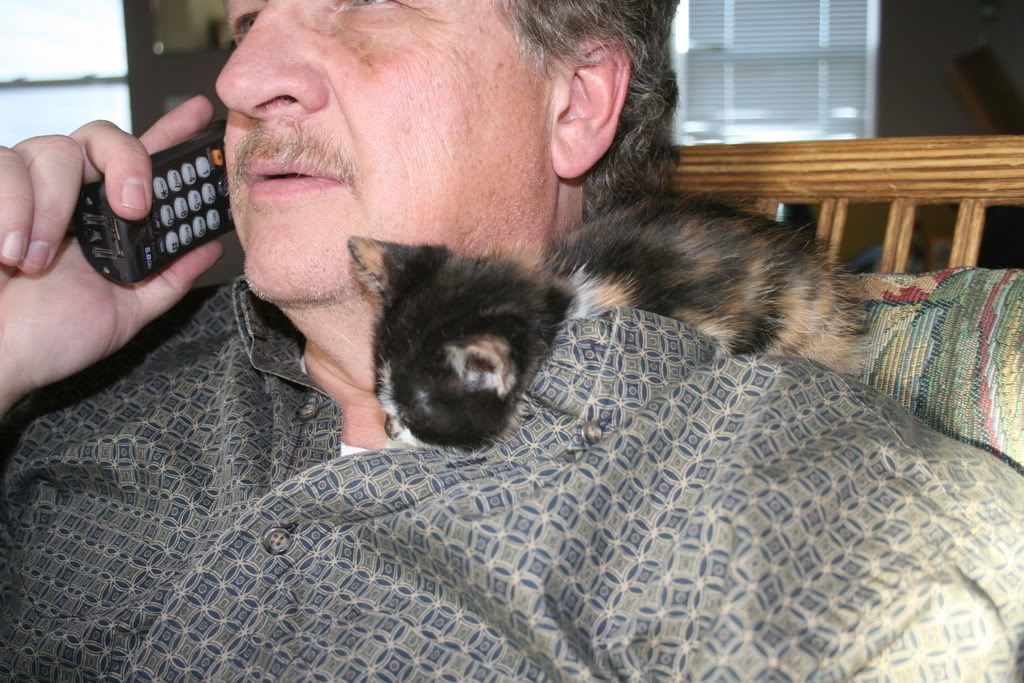 This is her 'helping' me on the computer...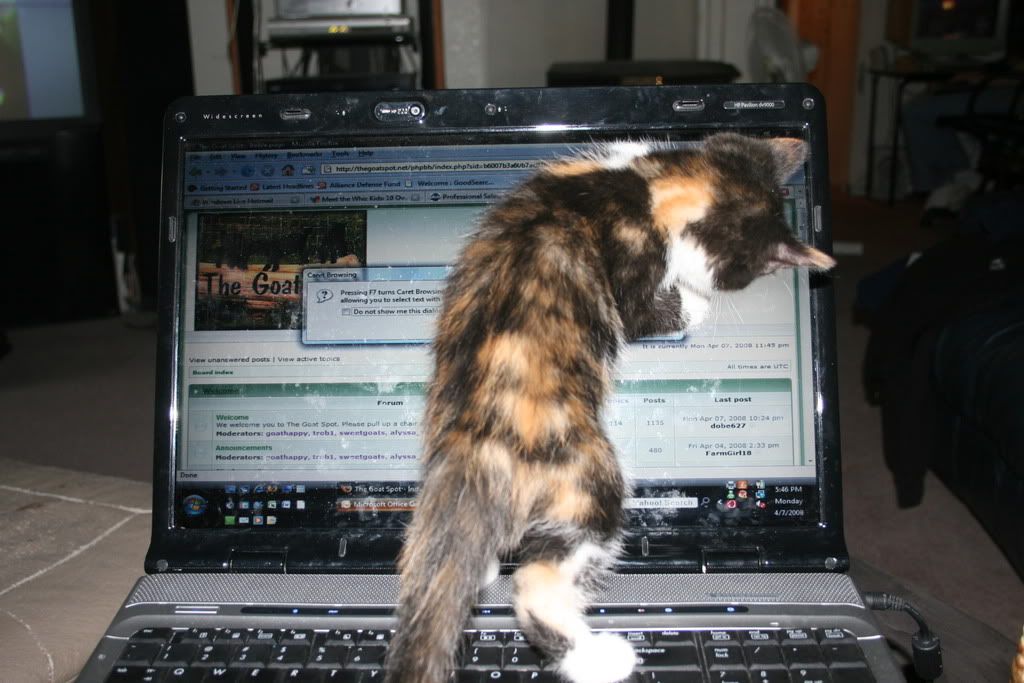 This is her with my pomeranian. My dog thinks she's the kitties momma.
Thanks for letting me gripe. Ahhhh... here she comes again...
How can I be unhappy? I may not have goats but I have this little darling!