Discussion Starter
·
#1
·
I don't know why that didn't post the first time:
I would like to warn everybody, the photos I'm about to post with this thread are extremely graphic. If you do not want to see them please press the back button. I am not a vet, this procedure was done by a licensed veterinarian under anesthesia. I am posting this for educational purposes, and why it is better to disbud than dehorn. Gus was disbudded but he still had really bad scurs come back that were like horns.
First off I want to thank everybody who has prayed for Gus, I will in return pray that you all have a doe year this kidding season :wink: Please specify if you want a buck year instead :wink:
Starting off on Thursday. At around 4:30pm I was in the house doing chores. My brother came in and told me that Gus broke his scur off. I quickly grabbed the remedies Phosphorus(for bleeding) and Arnica(for pain and bleeding) that were sitting on the counter from Tillie's accident earlier that day. I went out there and Gus was just gushing blood from his head. He had broke his scur off and it was just hanging there. I immediatly gave him Phosphorus every 5 minutes to help with the bleeding and called my mom. She came home and so did my dad and then we called a good breeder friend. She suggested we try an saw it off *gulp* Dad and I held Gus while mom tried to saw it off, but with no avail, it just made it worse. We called my friend back, she said we can take him to her house and she'd saw it off. We thought about it and we decided to wait until morning so we could do it at the vets so the vet could clamp off any arteries. We put a pressure bandage on his head which stopped the bleeding. My dad sat with Gus while I went and milked the girls. When I came back the bleeding had stopped. It was around 7:30 by then and we gave him a couple more remedies for pain and bleeding and went off to bed. I was covered in blood, I felt so sorry for Gussy.
Next morning when I got up his bleeding had started again. I gave him some more Phosphorus and Arnica and went and did chores. We had an 11am app. with the vet to have his scurs removed(his scurs were like big horns) After chores we went out and changed his head dressing again as it was all bloody. After we changed it, he started bleeding again. I gave him Phosphorus and a very high dose of Arnica and his bleeding slowed. We took him to the vet then at 10:30. When we got to the vet they immediately took us to the back room. She gave him a local anesthesia as well as several shots of local blocks in the nerves of his face around his eyes to numb the head and horn area. He was out in 10 minutes.
Now, I am giving those with a weak stomach the option to go back now, I want to warn you these pictures are very graphic.
*
*
*
*
*
*
*
*
*
*
*
*
*
*
*
*
*
*
*
*
*
*
*
*
*
*
*
*
*
*
*
*
*
*
*
*
*
*
*
*
*
Ok, so you want to see them. Don't say I didn't warn you :wink:
This is a picture of Gus I took about a month ago, just so you can see what his scurs looked like. This picture was taken after the tree branch fell on his head. Before that incident, his scurs stuck up more than what they do in the photo: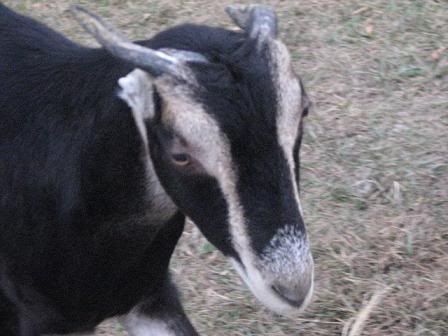 Here is what the back of his head looked like(the yellow stuff is an iodine disinfectant):
The red arrow points to his scur hanging there, it was hanging by skin, if we had tried to pull or saw it off ourselves, we may have done more damage than good:
The scur removed, note the arteries are clamped off: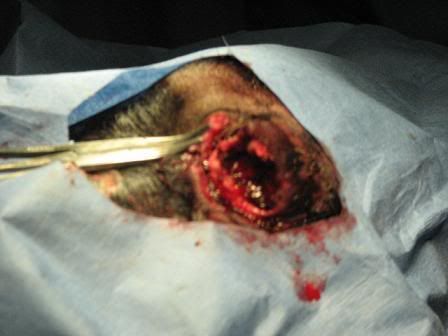 Cauterizing the arteries with a hot iron: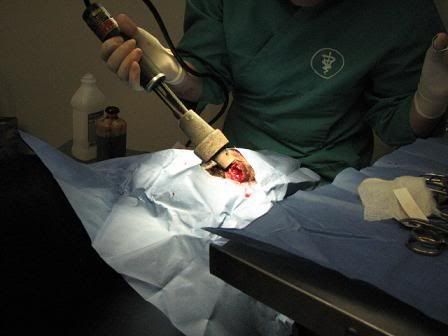 The intact scur before sawing: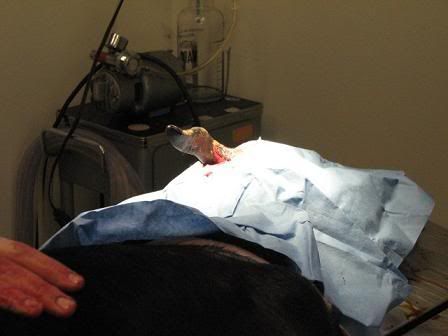 Sawing the scur off with a wire saw:
The removed scur, you are now looking strait into his sinus cavity, it was all hollowed out in there(I thought that was so cool):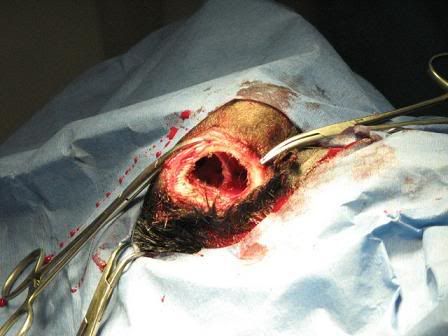 The bottom of the removed scur: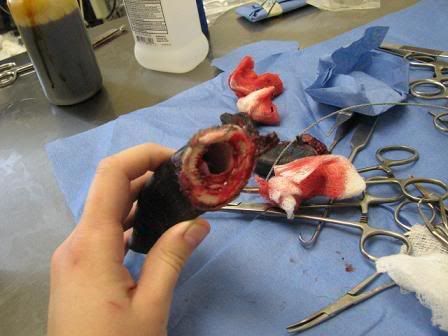 The scur that was broke off:
After surgery she gave him a shot of something to make him come out of anesthesia as well as a shot of Tetanus antitoxin. It took him about 2 hours to fully wake up.
Here is a picture of him I took last night, his face looks funny because of the way she shaved it: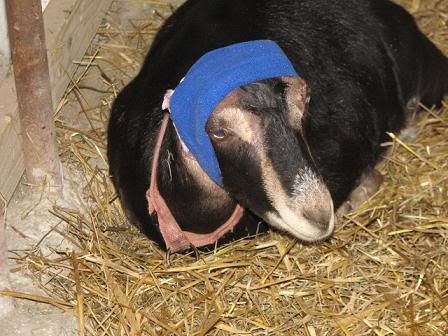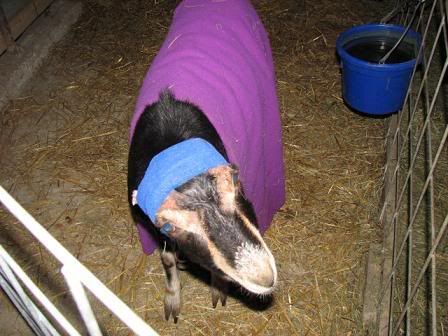 I thought it was funny she left his little ears sticking out:
And so he doesn't feel left out here's Caesar the unicorn(or unihorn) he gets taken back in January to have the other scur removed, I'll take pictures of him then:
Gus is doing better. He's eating hay and drinking molasses water, he's still has a long way to go. He has been shivering, so I make sure he stays covered up with blankets and I take warm water out to him several times a day. He's still bright eyed and peeing and pooing normally.
All I have to say after all he has been through in his life, if he can make it through this, he'll be the luckiest son of a doe that ever lived. He's been through bad pneumonia, one week he was having siezures(we think mild polio linked to the stress of his pneumonia), a big tree branch fell on his head and now this. I hope he can make it through this one.
Thank you everybody for your continued prayers
:hug: