Discussion Starter
·
#1
·
Our Lilu buckling from Nicole is here!!! We still haven't settled on a name, so he is Lilu buckling for now. :roll: :lol:
Did you say ears?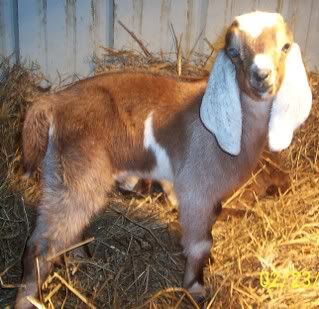 I am so regal looking!
Striking a pose(he is stretching):
This is Mava buckling. We aren't keeping him. Nicole gave him to us.....he is on pen. right now as he was so twisted up inside his dam that when Nicole finally got him out he had a swollen knee and hock. The swelling has gone down quite a bit. Anyways, she doesn't want to send him to the meat buyer not completely healthy, but doesn't want to keep him much longer, because at already a week old she is getting attached to him. All this time she is telling us about him she is holding him and cuddling him...he is out of her favorite doe that died because she had a torn uterus after having him and his brother. She knows we take good care of our animals, so she trusted us with him and let us bring him home. He'll either be a market wether(and since he has such a sweet personallity I hope that's not what he goes for), a pet wether, or to a 4-H herd or any herd that doesn't care about papers.
Here he is with Lilu buckling: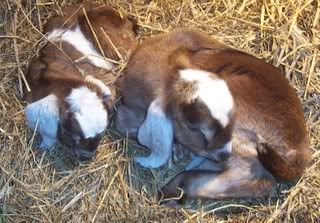 His cute little mug: