Discussion Starter
·
#1
·
This is my first herd ever, it started off pretty rough but it's all better now. Here they are. Btw my name is Luis, I hope to be a good friend of this forum. Thanks for all of y'all's help.
This is Lola. Hopefully she'll kid soon. I'm so excited to witness my first kidding.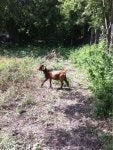 This is Peter. He almost died last week of what I was told was pneumonia. Luckily I found y'all and have me some great tips. He's now healthy and loving his new home.
These are my 4 sheep which are yet to be named because they are wild and skittish.
All 6 if them were bought from a guy that was going to sell them as slaughter. I'm glad I could save them and give them a second chance.