Discussion Starter
·
#1
·
Hi everybody,
I have several nice quality LaMancha bucklings for sale sired by J-Haven's TS Dream of Caesar(*B South-Fork Tropical Storm x South-Fork TJ Sweet Dreams) Caesar's dam peaked at 13 lbs last year and his dam's littermate sister was 2nd place 3 year old at the '07 Nationals. All of these kids come from great milking lines and these kids look great, so long, tall, great width, great general appearance and dairy character. Here is Caesar's page(scroll down)
http://www.freewebs.com/sandylanefarm/herdsires.htm
Dams are:
Lost Spring Caramel (Lost Spring Instigator x Lost Spring Tootsie Roll)
http://www.freewebs.com/sandylanefarms/caramel.htm
udder photo taken 14 months(yes that's right) fresh with 12 hours of milk in it, last year milking through she consistently gave me 7-8 lbs a day. This year her udder is even better showing more width with better teat size and placement and she is just a dream to milk. She is nursing two fat kids right now but is still giving me about a half a gallon a day. I have three bucks available out of her and they are priced at $150 registered(I will only register them if they are sold), two of them are the color of the buck pictured below, and the other one is a darker chocolate brown with tan and black trim
Here is one of Caramel's sons(all of Caesar's kids look like this):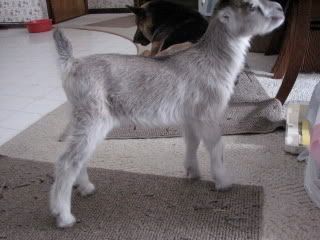 More pictures upon request of the other two
Also three bucks from Lost Spring SS Tuscon (*B Lucky*Star's Natural Strike x GCH Lost Spring RE Salena 2*M)
http://www.freewebs.com/sandylanefarm/molly.htm
Udder photo taken four months fresh while nursing two girls. When she isn't nursing, her udder is very high and wide, her teat placement is a little wide but she had such nice teat size. She peaked at 10 lbs last year and with fat triplet bucks this year she is still giving me extra milk. She is a very long doe, very dairy, GREAT body capacity(she had quads in her and she looked like she had twins) and great general appearance. She was on test her first freshening and her butterfat runs around 4% Her bucks can only be registered as experimentals, so I am selling them unregistered at $100 a piece. They would be a great addition to any backyard operation who doesn't care about papers but still wants a great buck.
Pictures upon request.
I am selling these bucks at bargain prices, I'd like to see them go to good homes instead of being eaten. All were born on the 18th and 19th of February.
If you are interesting, please email me at
[email protected]
We are located in Northern IL about two hours from Chicago, Madison WI, and the Quad Cities in Iowa