I've read through some previous posts but am still confused and feel so badly about our goat kids, they are 6 weeks old. I posted before because when we got them, they had lice (I'm almost positive they were sucking lice, looked just like pics). So I was treating them weekly with Python livestock dust and DE. The DE knocked out the moving older ones before I used the Python and we have seen less and less, can't find anything living or nits now and I check often.
However, I noticed the little ones are still itching like crazy, and I looked closer at their legs, belly and hooves and they look awful with sores/scabs
So now I'm wondering if it's mites?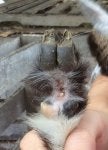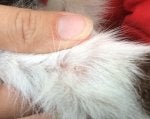 How is their Mama not showing any symptoms? I've checked her and she seems fine, never scratches either.
One other goat has a weird white bumpy circular lesion on his ear but that's all I see in the other goats.
What can I give them for immediate relief on the sores and then what to use to get rid of mites or whatever it is? I was thinking coconut oil, or a bath in something like Neem or diluted tea tree oil? I'm used to dealing with chickens and don't know what I can use on goats. I know I need to treat all of them as well, and clean bedding/sprinkle bedding.
I also have Ivermectin horse paste, which I know many people say you can't use with goats, but I don't see the difference between it and the injectable Ivermectin given orally?
I'd rather not do injectable as I haven't done that yet, and I've been reading that maybe Ivermectin plus but oral, or Cylene (sp?)? The mama is still nursing as well.
I've also seen that humans can get mites but not lice? Should my kids not be handling them much?
(I also noticed their hooves need trimmed after looking at them today, had no idea they would need trimmed this early and as they climb all over things all day long!)
Thanks so much for the help