Discussion Starter
·
#1
·
Guess what? I had to make sure it was OK with Jen before I told you all.. but....... MY NUBIAN BUCK is born!!! :leap: :leap: :leap: Oh my gosh, I am so excited! His name is Red Hawk. You can see his dam and sire at Jen's website:
http://www.celtic-stars.com
.
His dam is on the Senior does page: Celtic Stars Chick-a-dee-dee, and his sire is on the bucks page: Sand-Bur-Kids Pyro. Chick-a-dee has two CH legs and should finish this year! I love her. She has always been one of my favs.
His sire Pyro is the son of GCH Sand-Bur-Kids Destiny of Hope 5*M. She is so lovely!
Red Hawk is so beautiful!! He is red with white ears, topknot, white spot on his side and some white on his legs. He is so pretty! I love his coloring. Hey.. kinda like a red Pixie!! lol
I am so excited!! Woohoo!!!
Here are a few pics of him wet: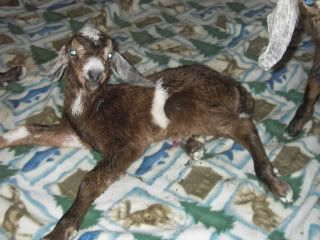 I better go to bed now.. been on the computer too long! :type: I knew you would all want to see him though!!!
:stars: :stars: :stars: