Discussion Starter
·
#1
·
At the beginning of the week we had a lot of rain on top of melting snow. My barn flooded. My two horses were in water. I went in the Nubian barn. Open the door and went to walk in and all I saw was water, everywhere. I thought OMG!!! Walked through the barn. Precious was standing in water with her baby in the hay feeder. Frostie and her baby were dry. Carmello was to. Nica's stall was half wet. Delilah and Hannah were standing in water, so was Georgia. This is at about 10PM, so dark outside, thank goodness for lights. It was pouring outside, windy to. All of my outdoor pens are muddy. So I wasn't going to be able to move the goats right then so I did some rearranging with the kidding area. Put some of those wood pallets down with OSB board on top of it for the two Nubians. I had a 4x4 wood pallet with very small slits in it so Georgia got that one. I made those work for the rest of the night. Spent the next day trying to figure out what to do. Finally decided to move the three Nubians to the hay barn. They have a pen in there, makes it easier to feed them! LOL.
Here are the pictures. My dog is in some of them. Her name is Muffy. I made her go with me while I was outside. I was out there by myself, in the dark…kinda creepy.
This is the isle between the kidding stalls. At the time of these pics it had quit raining and the water was starting to go down.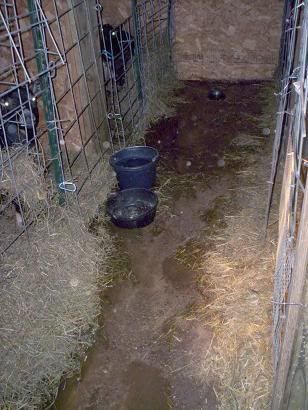 This is near the entrance.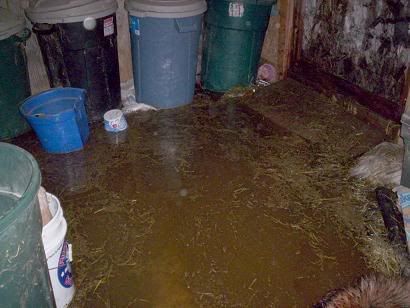 This is standing at the door looking in towards the kidding room.
This is Georgia, standing on her pallet.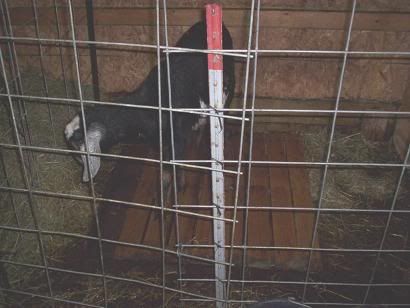 This is Delilah, standing on her pallet. Hannah isn't in these pics because my camera batteries died in the middle of taking pictures.
The day after the flooding I got the new pens set up in the hay barn and those girls went in there ate for like 10minutes and then realized they could lay down and not get all wet. They all three were sound asleep for a while. Poor girls didn't get hardly any sleep during the flooding.