I built a small Pygora herd. PBA, 2 adult does 1 and 2 years old, and an adult buck 6 yrs old.
Then my 2 kids the PCA heavy Pygora's .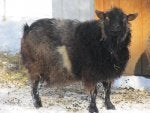 I really love their fiber, the PBA are a crisper curl, the PCA so soft long and shiney.
And the personalities , they are so much fun.
Oh, the Pygora girls are all together,and it is going well ! The buck has his own yard and is a pretty cool guy, the Angora cross sisters have gone to a new home. It did all work out, and I'm glad I got the Pygora's.