Well, I FINALLY gave Breck a haircut, and here he is! He hated every minute of it, and one of the does in heat kept coming around and he would go berserk. :eyeroll: but I think he looks a lot better, and he's a different color now too.
The captions are below the pics they belong to, for some reason.
First is a recent pic
Here he's set up as best I could get him. Feel free to tell me what you all think of him!
he's to be my herd sire for who knows how long (since I couldn't afford another for quite a while anyway) not that I'd want another, I love him. He's a little shy, but sweet all the same.
And from the front. I tried really hard to get one from behind, but he kept freaking out when I went behind him.
And this one is just so you can see my little ND doelings behind him. They are tiny! I'm working on that, they were stunted when I got them, I think from tapeworms, yuk. They are four and a half months old, and only around 20 pound each. Once they're big enough, they will most likely be bred to him as well.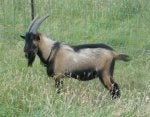 Umm, yeah this pic was supposed to be first, sorry! This was a while back-just another before pic.
Okay, I think that's it for now! Tell me what you think.