Discussion Starter
·
#1
·
It's probably sad how many photos I have of my animals, but this is great that we have a place to share them! I LOVE seeing all of your photos, so I hope you enjoy mine, too!!
Click on the thumbnails to see the photos larger:
My baby boy, Oscar (6 YO at this point, but has slept on my pillow since he was 7 weeks old). 98lbs of love and protection! Notice Honey is behind him.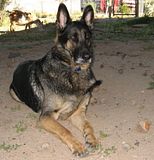 We "accidentally" started rescuing cats some 28 cats ago (neighbors moved out and abandoned them). We placed most, but the sickest and wild ones still keep us free of mice, scorpions, centipedes and cottontails. All come in at night, and only one still won't be touched (except for medical care, for which she does NOT have a choice).
TOOK (the other orange kat, pronounced to rhyme with Spook)
TOOK, his mom Pumpkin and the fluffy "talker" Princess