Discussion Starter
·
#1
·
This morning has been a beautiful day - and it could not have been better! We welcomed our first American Blackbelly lambs to the ranch!
At 6:30 am I went out to feed the animals and didn't even notice until about 20 minutes into feeding there were some little tiny legs that were amongst the bigger sheep legs. I looked around - and there is was - a tiny little :girl: ! :leap: :leap: She is very dark in color with a round circle of white on the top of her head. So she came over, I picked her up and petted her and checked to see the gender. I put her back down, called hubby (he is on his way to town to take our daughter to ACT testing) and told him we had a little one!
I then went about feeding, went to get the camera - cause you know we have to have lots of pics - and went back out to find somehow someway - I never saw the second lamb!!! We had twins! So after chasing mom around the 3 acres, hiding behind trees, trying to get a picture (this had to look hilarious if anyone was watching) I knelt down (with 5 goats behind me bleating for my attention) and the twins walked over. The second one is gorgeous! this one is dark, but not as dark as the first with a white jagged line going down her nose, reminds me of my Mooners! I pick it up - :girl: !!! So twin girls! I am so excited.
I looked at my reservation list, and even though this person is not 1st in line for reservation, I am going to offer them to a lady that wants a pair for her petting zoo (she also wants a pair of kids too!)
Anyway, enjoy the pics! They are not the best - but mom is W-I-L-D! and since they were just born - it was not easy to get them~
Allison
First picture of the twins with mom
Another - this is when I was sneaking through the trees - LOL!
Close up of the original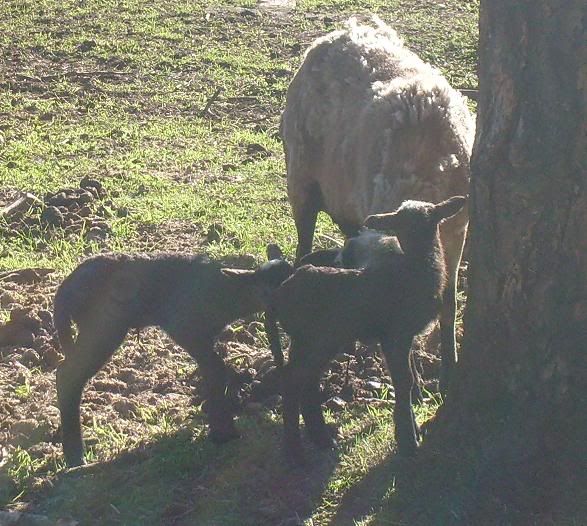 Meeting Tux the barn cat!
Tux thinks there might be some colostrum left on the lips - :ROFL: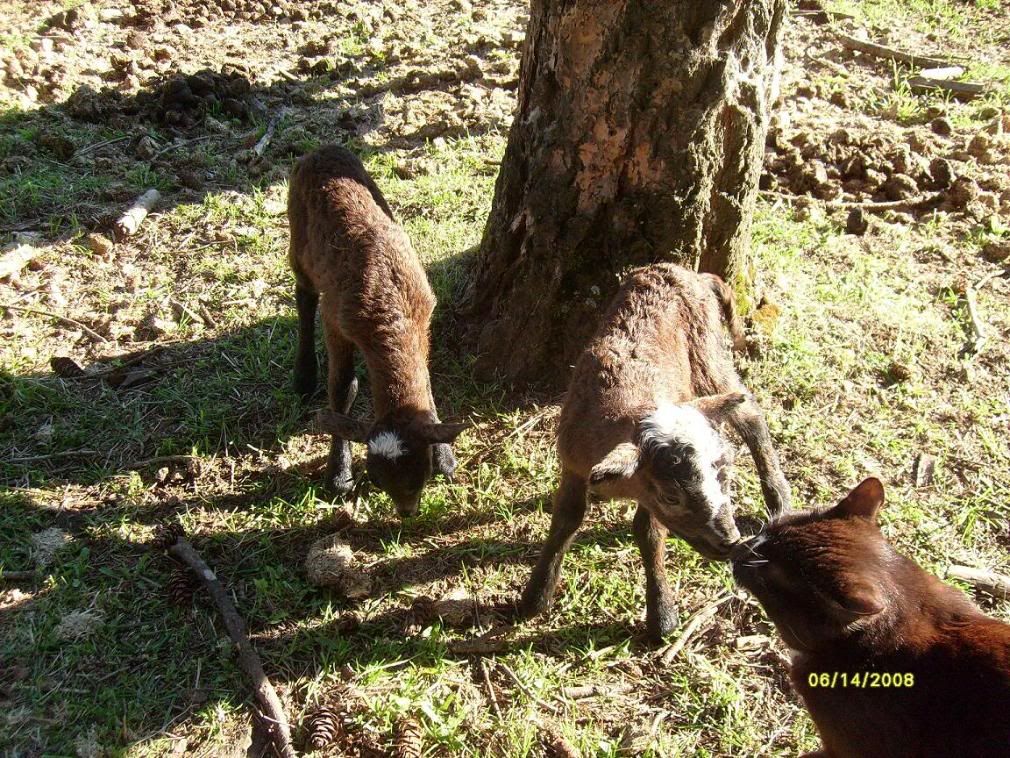 2nd born