Discussion Starter
·
#1
·
I've decided to get out of the Nigerians and focus on my LaMancha herd. I'm selling two mature does, a doeling, and a herd sire up for sale. The only one being retained is Blissfull (and she's just for my son's pet). These girls are amazing, they kidded super easy. I truly love these goats and it's been a real hard decision to sell them.
(doe) Big Oak Farm ETV Lucky Star 5-9-06 $300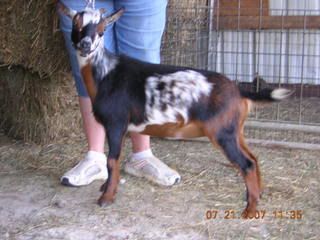 Beyond impressed with this does udder as a FF - nice attachments, super easy milker. Kidded a single buckling 1-27-08 with ease - was a great mom and a dream to milk. Super lit up --- beyond colorful - a nice all around doe.
SIRE: Sugar Creek TW Enjoy The View *S
(Sugar Creek NT Tightwad *S x CH/MCH Twin Creeks WB Talk About Me 1*M/5*D)
DAM: Sugar Creeks FR Shooting Star
( Caesar's Villa FZ First Rate * S x Caesar's Villa R Rising Star)
(doe) Atwood Acres GR Desire 4-15-04 $300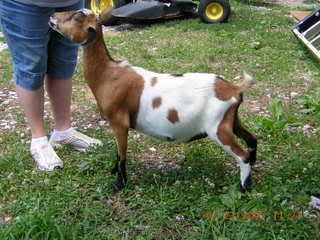 Kidded 2-7-08 with twins. Great mom, gorgeous kids. Great general appearance on this girl.
Pictures of her 2008 kids can be viewed on my website.
Sire: CH PromisedLand CP Gold Rush *S
(MCH Caesar's Villa CBS Cowpoke +*S'E' x MCH Greengate Lil Red Riding Hood *D'E')
Dam: Twin Creeks WB Azu Wish
(MCH Goodwood Weisbaden +*S 'E'x MCH Twin Creeks BH Phantom Bride *D 'E')
(doeling) Bona Fide T Jewel 3-1-08 $200
Wonderful pedigree on this doeling, small but correct. Dam has amazing attachments - very nice general appearance.
High hopes for this little girl in the ring or in the pail - dam/grand-dam both were JrChs.
Sire: Big Oak Farm NS Treasure
(Big Oak Farm SD Nightshade x Atwood Acres GR Desire)
Dam: JrCH Atwood Acres FT Blissfull
(PGCH Twin Creeks BW Fathom This *S x Kaapio Acre's HS Rhap'sody)
(buck) Big Oak Farm NS Treasure 3-10-2007
Nice buck - very dairy, gorgeous general appearance. Proven herd sire to 2 gorgeous kids in 2008.
Colorful to boot -
Sire: BIG OAK FARM SD NIGHTSHADE
SS: SUGAR CREEKS NR SNAPDRAGON *S
(PROMISEDLAND NIGHT RIDER *S X ARMCH GAY-MOR'S NB NARCISSUS 3*D)
SD: STONEY LONESOME PETUNIA
(STONEY LONESOME LIL BOY BLUE X STONEY LONESOME PANSY)
DAM: ATWOOD ACRES GR DESIRE
DS: CH PROMISEDLAND CP GOLDRUSH *S
(MCH CAESARS VILLA CBS COWPOKE + *S'E' X MCH GREEN GATE LIL RED RIDING HOOD *D'E')
DD: TWIN CREEKS WB AZU WISH
(MCH GOODWOOD WEISBADEN + S'E' X MCH TWIN CREEKS BH PHANTOM BRIDE *D 'E')
WILL SELL AS A PACKAGE OF 4 FOR $800 - CAN INCLUDE AN UNRELATED NICE 2008 BUCKLING FOR A STARTER HERD OF 5 FOR $850.
PICTURES OF DOES/BUCK AND MORE INFORMATION AVAILABLE FOR VIEWING AT
http://www.freewebs.com/jklstone/