Discussion Starter
·
#1
·
The goats and I decided to clean the yard of a vacant house, the other day. No before pics. After goats munched on the yard for two days, someone came to rent it. That person, a young man that I had met at his job at TSC, was renting house from his brother. He decided to hire us to actually clean the yard and mow it!
View from back to front. Kudzu was as high as Sinatra(black nigi) from cedar tree to halfway to street. Our two houses across street.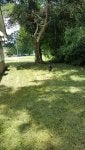 Shelby chewing cud and thinking about this huge task.
Zelda's tail, I know, fish tail. Working on it.
Lawrence (darker), Bonnie, Kate and Zelda.
Left to right Chase, Camille, Trudie (Katahdin sheep) and Bentley. Yes those are big azalea bushes back there. My goats know not to eat them. Trudy found a fresh oak limb to snack on.
We are almost through, have to do a little trimming and mowing.