Discussion Starter
·
#1
·
I have this little Boer X doe, Punkin, who I just am not sure if she is actually pregnant. She's little in stature as well as young- 11 mos or so, and the other two does that she runs with have kidded already, 19th & 22nd March. I wrote down that I observed breeding activity Oct 20 - Nov 15th... and estimation at best, as honestly, breeding was not my intention.
So, here are some pics of Punkin's girly bits, tiny udder, and body shape; she is shy about the camera but I caught her while eating. I
think
she is pregnant, considering that her nipples are longer recently, with a very small, flacid udder, her left side is generally wider than the right, as well as her body seeming much deeper in the last couple weeks, and her vulva is rather pouchy (technical term).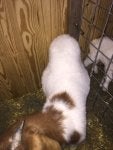 I'm a little worried about her kidding as she is small, about 60# maybe (a bit more than a sack of grain), 24" tall and I am not sure what her breeding is aside from part/half Boer (neither is the person I bought her from) but she sure has a soft fluffy coat, if that is any hint as to the cross. She was bred by one of the KikoxSaanen X Savannah boys, and they are not real big guys yet, only about a year old as well.
I honestly think the whole bunch that I got were somewhat stunted, not well-managed. One of those "I coulda, shoulda, woulda" situations where walking away might have a better idea, but hey, so far I think we're doing ok.
Any thoughts on whether you think she might be kidding sometime in the next month? or just a hopeful Aunty?