Discussion Starter
·
#1
·
We have been battling an undiagnosed disease in our Gordon Setter, Daisy, for months and finally lost the battle on Jan 26, 2008. Daisy was "head goat" and, as surprising as it may seem for a bird-dog, she was the best goat-herd you could have wished for. We are just now beginning to talk about getting another puppy as our GSD, Oscar, turns 7 in March and we need a dog-in-training to watch over the goats and the house in time for Oscar to "retire."
The email I wrote to family and friends the day we lost our beloved Daisy:
After a long (3+ year) bout with a tick-borne illness, Daisy crashed last night and we had her put to sleep this morning. For those of you who knew her, I don't need to tell you what a special and incredible dog she was. She was the pinnacle of "bird dog," taking field turn commands at over half a mile off and having such a gentle mouth as to let a live quail fly from her jaws. In addition, she had intuition and sensitivity that was unmatched, raising Oscar and the kittens and the goats, laying with me after surgery or just knowing when you're sick or feeling blue. I miss her terribly. She was our first "child."
Doc was gracious enough to come out to the truck to put her down so that she was in our arms in familiar surroundings. She rode in the truck nearly every day to go run out on the mesa. She went yesterday for the last time, but did not run - just walked along at DH's heels. I was up with her all last night and she could not stand this morning. She was loved as much as she loved. We buried her beneath the willows out at the west edge of the vineyard; she is wearing her Scottish scarf of the Clan Gordon tartan and her head is cushioned by DH's Gordon Setter of NM Club shirt. I tucked her in for the last time in a Scottish wool blanket to keep her warm.
Thank you all for your well-wishes over the last six or so months as we have dealt with the worst of this illness. Daisy had a full life including hiking the Shenandoah, Gila and Monzanos. Your thoughts, prayers and words have meant the world to me. Thank you for the love, and the understanding.
(Click to see larger images)
Daisy as a pup in 1997
Her favorite thing besides laying in the yard with her goats: running free chasing birds or jackrabbits on the mesa.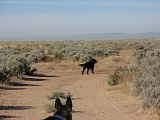 This was late in life: Daisy making wine with us - it might not be the most sanitary, but she would lick my legs after stomp as I ran to get in the shower. She used to poach grapes off the vine, too, if you weren't looking...
Her classic, intent, loving look: