Discussion Starter
·
#1
·
I haven't given a picture update of the boys in a while, so I thought it was about time. They are doing great, being their usual buttheaded, yet endearing selves, hating the snow, and eating. It was actually warm today, around 35, so they were enjoying themselves more than usual. I have, by their standards, been a very bad goat momma lately. I haven't let them out of the pen in over a week, usually they are out for at least 45 minutes every day. Since the snow is melting a bit, they had a jolly good time running pell mell around the field! It was so funny! Especially Melino- he reminds me of a huge horse thundering around he is going so FAST! He's really grown these last few months,getting pretty muscular too. The Nigerians just hop their way around, the chubby little things that they are.
You're here! Good! You have no idea how HUNGRY we all are!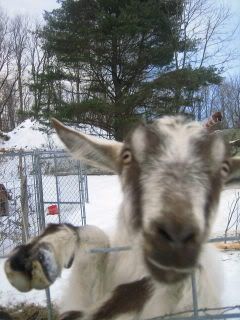 The little brats know how to undo the latch, and were quite determined to get past the other barrier
Comje on, how cruel can you be? We want out!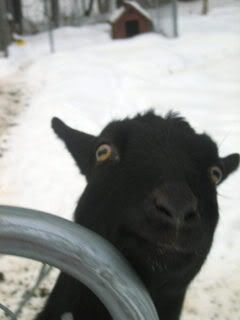 Well, since that didn't work, maybe looking pitiful will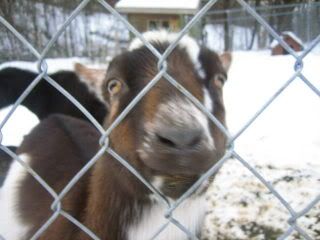 Ooh, what's this? An apple? YUM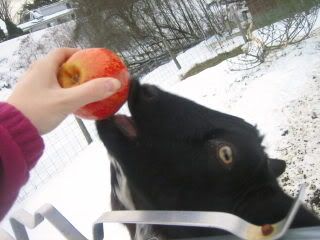 So, then I let them out to play
Melino tried the apple too (look at those lips lol)
Then Shanti finished it
Well, I'm free... now what should I do?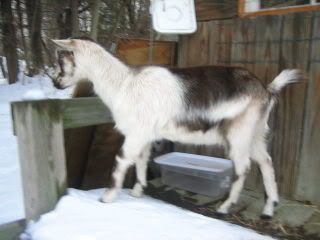 There's no grain left..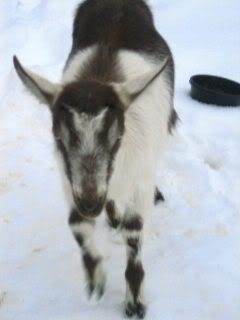 ...so the only thing to do is..
RUN
...going...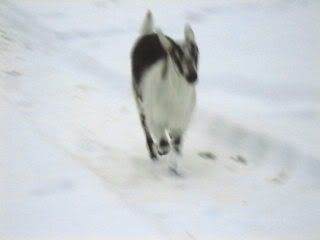 ...going...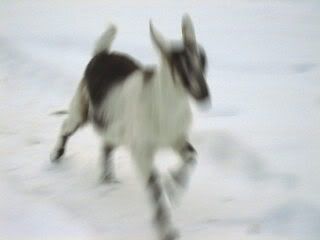 ...gone...
More coming (sorry there are so many
)