Discussion Starter
·
#1
·
I went outside to take some pics of my goats and had a laugh lol.
Well i went outside and everything came running lol.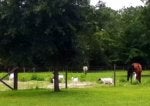 Then first i decided I'd take some pics of my 6 week old chicks as i was waiting for them to finish eating ( i know they look funny but the bald ones are Dominique turken crosses lol
i had no idea they would look like that but they are kinda cute in a weird way
And as i was putting them up i turned my back to the shelter and i felt something yank my hair and turn around to this lol...
So here is my attempt to take their pics alone haha...
This is one of my 6 month does twins i have no idea on breed so any guesses on these mixed breed goats would be great
And her twin sister that wouldn't hold still long enough to take a pic but she looks exactly the same just has floppier ears and different colors. I didnt get a pic of their mom
Then i have those twos half sister from last year (same dam different buck)...
And her first kid now a 3 month old buck...