Discussion Starter
·
#1
·
Tilly is the doe that had the vaginal prolapse 13 days ago. Vet stitched her with a "purse string" and told me I can snip the knot in ten days(from the 6th) so I waited til after her course of penicillian and a extra few days and snipped it tonight. She was actually pretty good about it, minimal kicking til I hit her cha-cha with the cold betadine! She would hit 150 on the 29th but she has me really puzzled with her heat, she was in on August 2 and again on the 25th wich would put her at a 23 day cycle, she was with Chief then but wanted NOTHING to do with him, She came in on October 3rd and made a bee line for Hank and stood for him. Now since the last breed date was ONLY 8 days from the 25th should I go by the first "cycle"? It would put her at 145 now! She has an udder that has grown and soft ligs and when Tilly is ready her udder is the first thing I notice. I am praying that she has the same easy deliveries that she has had before with no uterine prolapse...maybe I'm just worrying too much? She's kidded on days 144 and latest 147.
Here she is after I cut the stitch. Her udder has really doubled in the last day which is why I am wondering about her due date.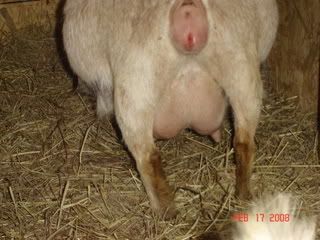 Here she is sitting...I expect twins probably bucks too as she had does last time.