Discussion Starter
•
#1
•
2019 certainly has been a year of ups and downs. Through it all, we have been incredibly blessed even during the times of sadness.
Back in spring 2016, we decided to retain some of our kids and try our hand at this showing thing. We had a blast, and I was hooked on showing since! Over these last few years our girls have done well and it all has been a positive experience. She season is over for the year, I never got around to posting but late is better than never
ops2:
Our first show was the Legendary Dairy Goat breeders spring show in early May 2019. I only took a few does to this show, only one milking Nigerian and two Lamanchas. Everyone placed well! The black & white Lamancha doe is 6, she's one of the only does that doesn't carry out herdname. She has a damaged gut and her absorption is way off. She's a harder to manage goat, but hasn't done too bad! Next are Scarlet and Willow, they are both Jr does and earned their dry leg at this show. Willow was my first BIS win, she is 2nd gen Wings & Caprines (our herd name). Next is a recorded grade, she's a nice doe but unfortunately there were not enough grades for her to be official, so I continued to show her. Last but not least is Red Hot, a up and coming two year old with two legs toward her Championship. Can't wait to see her with a little more maturity!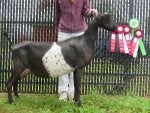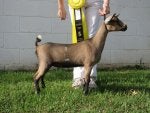 How was your show season? Post away! Meat or dairy goats