Discussion Starter
·
#1
·
Okay, you all know that I LOVE Nubians. They are my absoloute favorite. But I am thinking about Alpines as I have Alpine does as well. (I've included pics)
I started out with buying three Alpines at a show. One was a fund raiser kid- kind of like a spotlight sale type thing. The other two were yearling milkers, one was sold "beacause she didn't win." She got 3rd place out of like 10. The other was sold soley because she freshened lopsided. (and not bad either) The lady needed to downsize so those were the two she picked. Both are out of GCH does and a Cream-Of-Kansas buck.
I do NOT want to sell these girls. I just can't. (hey are now three) I love my Nubians, but the best girls in my barn as far as conformation are my Alpines. My best is Cindy. She is incredibly wide, long and practically perfect except for her mammary. She needs work on fore and rear attachments, as well as a crooked teat. Her udder is still nice, but I am a perfectionist.
Do you think I should buy an Alpine buck (if I do that I will be searching for one that will hopefully keep the quality or improve the quality of my does) to breed to them and sell the purebred kids, or do you think I should go with a Kiko and keep the kids for meat?
Here are the girlies:
Nancy (2nd best girl)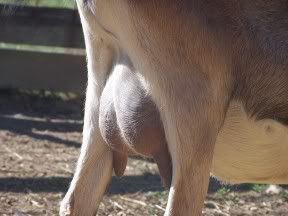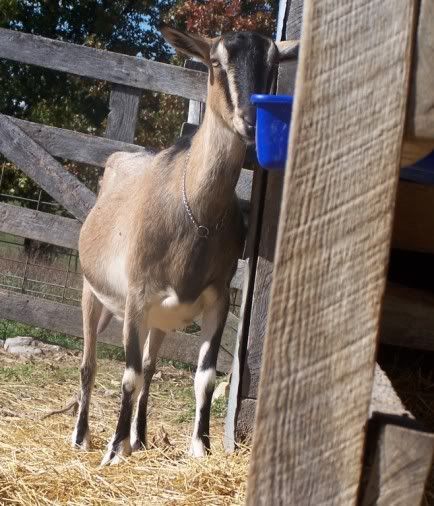 Cindy as a yearling. She has improved greatly, but you can see her mammary slightly here. She is naturally uphill, this pic she is just throwing a hump there.
Opinions on these girls are greatly appreciated. You can see how wide Nancy is in that one pic, but Cindy is even wider by far than Nancy.
I could never sell these two girls- their personalities are irrestistable (except when in heat, lol) and they are forever friends.
Dollie, the two year old, (she is bred, freshen in March) is still dry so I don't know how her udder will turn out. She is looking very nice, maturing more all the time. I'll have to get some pics. Whether or not I keep her soley depends on her udder.
For now they are all bred to my nubian buck. I don't want to continually do that however, as the kids will not bring a FAIR price just because they are crossed. They will probably be the best kids born on my farm but will go for less than $100 as nobody will buy them.... *sigh* I will probably be keeping a daughter or two to see what kind of udder Shem throws from nice does.