Discussion Starter
·
#1
·
Wind had her :girl: last night about 10pm she had been in labor all day. Picture of Wind in labor. It is difficult to believe that she only had one kid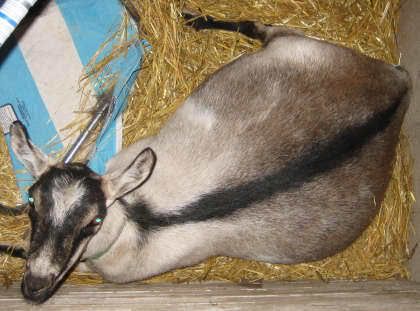 She had a difficult time giving birth. This was her first kidding. The kid was positioned with the left front leg coming out first, the right leg was back and tucked under and the head was turned what felt like upside down (teeth on top). I tried to push the baby back in to reposition but I couldn't. I reached in turned the head.After a couple tries found the right leg and got it out next to the left one. The head managed to turn sideways and I couldn't get it to change position. At this point my husband and I switched positions and I comforted and he pulled. I was tiered and couldn't pull hard enough. She was not stretched enough so while I was talking to her I kept gently stretching her while DJ pulled when she pushed. Once the kid was out she started yelling and we both started breathing again. We put Winds new baby in front of her and she started compulsively licking. The kid must have been in Wind with her legs tucked under. Her legs are not straight. She isn't able to get up on her front hooves or the first joint because she can't straighten the ankle out. The first joint doesn't seem to be able to move very much. After Mom had had time to clean I put the little darling in my lap with a heating pad on those front legs. I gently moved and stretched the ankle joint and I did get a little more range of motion from it. I will do that again today. I didn't mention that she has no problem walking on her ankles to get the milk! This morning every one is doing ok. Winds tongue has not fallen off from all her cleaning. I have never seen a goat clean that much.
Mom and kid lounging this morning.
These are not very good pictures of our little girls legs:
Blue is the ankle joint, Green is the first joint and Red is the hoof
Blue is the nose, Red is the hoof, Pink is the back leg and Green is the ankle joint
If anyone has suggestions about what I can do for her legs please let me know.
Suellen